Please use the following guidelines along with a fabric tape measure when ordering the right size. We suggest wearing minimal or no clothing to get the most accurate measurements.
Please note that our rugby shirts have a semi-fitted cut to give a more tailored look but have been designed to be worn with other layers. If you prefer to wear a t-shirt underneath then we recommend you choose your normal size. If not, and you want to relive your playing days, then perhaps consider a size below for a more custom fit.
The measurements on some clothes of the same size may vary depending on the style, but they will still fit the sizes shown.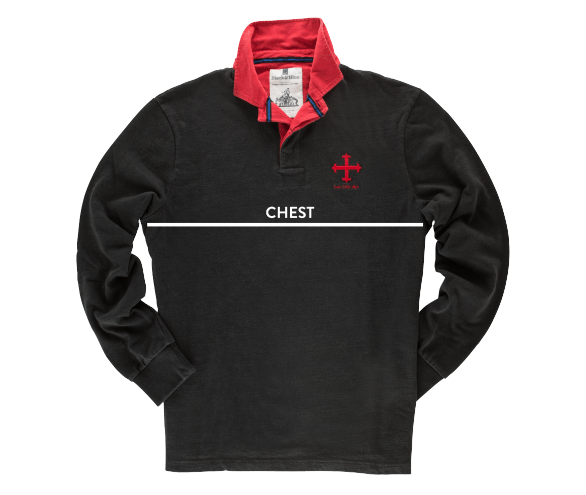 Place tape measure just below your Adam's Apple and measure the circumference of your neck. Allow room for your index finger to fit between the tape and your neck for a comfortable fit.
Place the tape around the fullest part of your chest, including your shoulder blades, then drop your arms to your sides to measure.
Again, take a shirt or jacket that fits you well. Lay it flat and measure from the top armhole seam to the tip of the cuff.
Length measured from the bottom of the collar to the bottom of the hem.
EMBROIDERED LOGO – CIRCULAR MARK
Sometimes a faint mark may be visible around the embroidered logo. The mark is normal and it will disappear with the first wash.
When the shirt is embroidered a hoop is used to keep the shirt in position on the embroidery machine. This hoop needs to be clamped tightly so that shirt does not move while the embroidery is done and can leave a slight indentation mark on the shirt afterwards.
Our number patches are individually embroidered on to the shirts, so to ensure they are stable during the process to keep puckering or stretching from occurring we have to use a backing fabric. This backing fabric is trimmed but left covering the patch (on the inside of the garment). As the backing fabric degrades in the washing machine we recommend that you let the backing degrade with washing. Do not rip it or cut it out as this can cause damage to the stitching.
Machine Wash Warm 40°
Do Not Bleach
Do Not Tumble Dry
Iron Medium heat
Do Not Dry Clean
Love what we are about? Get involved.
SIGN UP TO OUR NEWSLETTER