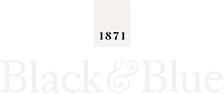 Black&Blue 1871 has taken the founding date of 1871 and 13 of the original 21 founding clubs of the Rugby Football Union (RFU) and created an apparel brand which harks back to the early days of rugby. Of the 21 original founding clubs, 13 either disbanded or ceased to exist and little is known about many of them.
Black&Blue 1871 has taken these majestically named founding clubs and brought them back to life giving each club its own identity, colours and crests.
We hope that you'll want to be a part of it and to represent your 'club' and become part of a new chapter in the history of these wonderful old clubs.
SIGN UP TO OUR NEWSLETTER